Mindmapping
Sep 16, 2021
A mind map is a diagram used to represent words, ideas, tasks, or other items linked to and arranged around a central key word or idea.
Their visual basis helps to distinguish words or ideas, often with colours and symbols. Mind maps allow for greater creativity when recording ideas and information, as well as allowing the note-taker to associate words with visual representations.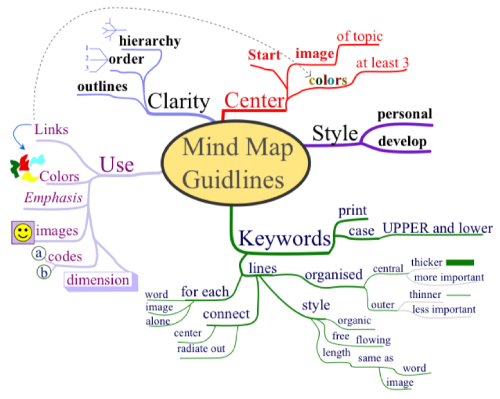 1. Start with a coloured image in the centre. An image often is worth a thousand words and encourages creative thought while significantly increasing memory.
2. Use images throughout your mind map. As No 1 and to stimulate all cortical processes.
3. Words should be printed. For reading-back purposes a printed map gives a more photographic, more immediate, and more comprehensive feed-back. The little extra time that it takes to print is amply made up for in the time saved when reading back.
4. The printed words should be on lines, and each line should be connected to other lines. This is to guarantee that the Mind Map has basic structure.
5. Words should be in 'units', i.e. one word per line. This leaves each word more free hooks and gives note taking more freedom and flexibility.
6. Use colours throughout the Mind Maps as they enhance memory, delight the eye and stimulate the right cortical process.
7. In creative efforts of this nature the mind should be left as free as possible. Any thinking about where things should go or whether they should be included will simplyu slow down the process.
The idea is to recall everything your mind thinks of around the central idea. As your mind will generate ideas faster than you can write, there should be almost no pause - if you do pause you will probably notice your pen or pencil dithering over the page. The moment you notice this get it back down and carry on. Do not worry about order or organisation as this will in many cases take care of itself. If it does not, a final ordering can be completed at the end of the exercise.
Source: Use your Head, Tony Buzan, BBC
I
In his books on mind maps author Tony Buzan suggests using the following guidelines for creating mind maps:
1. Start in the centre with an image of the topic, using at least three colours.
2. Use images, symbols, codes, and dimensions throughout your mind map.
3. Select key words and print using upper or lower case letters.
4. Each word/image is best alone and sitting on its own line.
5. The lines should be connected, starting from the central image. The central lines are thicker, organic and thinner as they radiate out from the centre.
6. Make the lines the same length as the word/image they support.
7. Use multiple colours throughout the mind map, for visual stimulation and also to encode or group.
8. Develop your own personal style of mind mapping.
9. Use emphasis and show associations in your mind map.
10. Keep the mind map clear by using radial hierarchy, numerical order or outlines to embrace your branches.
Source: Wikipedia