Strategy Planning and Budgeting
Sep 10, 2021
Strategy planning and reviews require dedicated time
away from day to day interruptions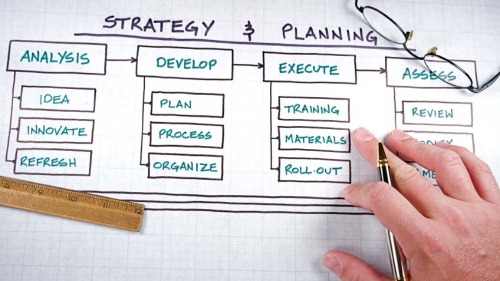 Strategy planning and budget preparation activities every year justify getting away from day to day interruptions.
Strategies and budgets also justify employing an external facilitator so that every member of the team can play a full part in the process.
Business plans are a key tool in successfully progressing and monitoring progress of any organisation. But, in a fast changing world, steadfast adherence to an out of date plan is no more useful than no plan at all.
So, the quality of planning is key. Corporate retreats, scenario planning and revisiting the vision, mission and values all provide processes for breaking out of "habitual thinking" to address current and future realities.
How can a facilitator help?
An experienced facilitator who understands business processes, who actively monitors the external environment and who is prepared to challenge internal assumptions will act as a catalyst for achieving more robust strategies and budgets.
An experienced facilitator who takes responsibility for managing team effectiveness can ensure that all members are able to contribute their full potential. There are many standard planning tools to strategy planning and budget preparation that can be used, including:–
brainstorming
SWOT analysis (strengths, weaknesses, opportunities, threats)
PEST analysis (political, economic, social, technological)
Balanced scorecard
Scenario planning
Systems thinking
What do you get?
Brefi Group organises and facilitates group meetings, away days, workshops and conferences internationally. We have worked in North America, Europe, Africa, Middle East and Asia, often in exciting locations.
Clients benefit from including a short consultancy stage before the meeting, in which we interview each participant to better understand the issues and to identify what's not working and why.
They might also ask us to help with implementation or monitoring of outcomes.
Our customer-designed packages include: -
Venue search, negotiation and booking
Pre-briefing and agreement of outcomes
Design and approval of the programme
Organisation and administration
Preparation of materials
Management and facilitation of main event
Provision of keynote speakers, where required
Workshops and breakout sessions
Review, action planning and follow-up commitments
Photographs and visual record
Meeting report
We ensure that each event is structured to achieve a previously agreed outcome, but is flexible and responsive enough to deal with whatever arises, whether it be a business issue or inter-personal. We produce lots of flip chart sheets! and we hold people to account.
What to do next
If you would like to know more about how we can support your personal development as a director, facilitate an away day or corporate retreat, or assist with your board's corporate governance, contact us or call +44 (0) 7970 891 343.